Click Here if you have recently had your picture taken at the ProLook Photobooth
ProLook Photo Booth
Just a sample list of some of the guest who have appeared at the ProLook Photo Booth.


Joe Montana, Magic Johnson, Wilt Chamberlain, Terry Bradshaw, Jerry Rice, Pete Rose, Duke Snider, Warren Spahn, Len Dawson, Joe Greene, Dan Marino, Ivan "Pudge" Rodriguez, Lawrence Taylor, Jeff Bagwell, Jeff Kent, Mike Modano, James Worthy, Eric Dickerson, Mick Foley, Kane, Tony Dorsett, Kurt Warner, over a dozen different Heisman Trophy winners and many, many more.
Lawrence Taylor Jeff Kent
If you would like to reorder a photo you had taken at one of our events or purchase other photo items from a ProLook Photo Booth photo please click here for an order form.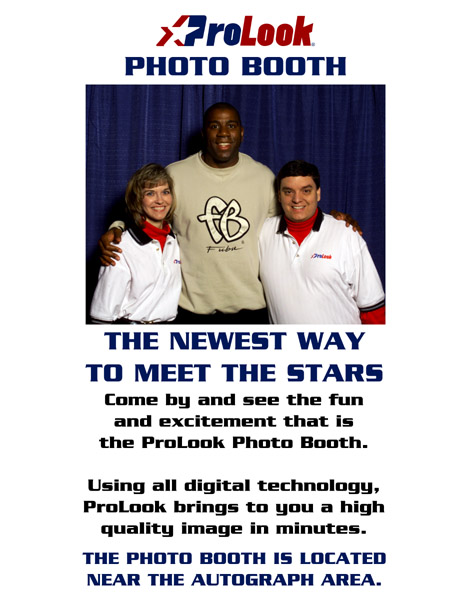 The ProLook photo booth does event photography at dozens of events across the U.S. every year. It provides guest of the event the opportunity to get a studio quality photo taken and produced on-site. For information on booking the ProLook photo booth for your event call us at (888) ProLook.
ProLook * 3786 Arapaho Road * Addison, Texas 75001 * (972) 488-2100 * (972) 488-2144 Fax